Headquarters
Last week was a big week for us, as we finally moved into our new office. We couldn't be more excited to have a place of our own, and think we've nabbed some of the coolest space in South Bend.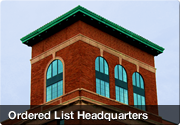 For close to two years, we've been working out of homes, coffee shops, and bars, and it just wasn't cutting it anymore. It's a fun way to work, for sure, but we found ourselves lacking motivation to work simply because we couldn't decide where to go in the morning. Finally, that's no longer a question.
We have two rooms, stacked directly on top of each other in the tower of the St. Joseph Station. Our current plan is to have a work room on the 5th floor, and a play room on the 6th. We're still waiting on carpet and some more furniture for the 6th floor space, but we're all moved into the 5th floor, and are ready to host guests at any time.
If you're in the neighborhood, and want to come visit, there's maps and directions, as well as a few photos on our headquarters page. We'd love to have you stop by and visit, or even to work here for the day. Just let us know if you plan to stop by, so we can make sure we're here.